Deciding on what gym to frequent for your workout regimen can be rather daunting. When caught between the gyms near you, the choice becomes trickier in picking which one would have what you need.
Among the popular brands include Anytime Fitness and Planet Fitness. Unsure of what to pick between the two? We will look into what they have in common and what makes them very distinct from each other.
Anytime Fitness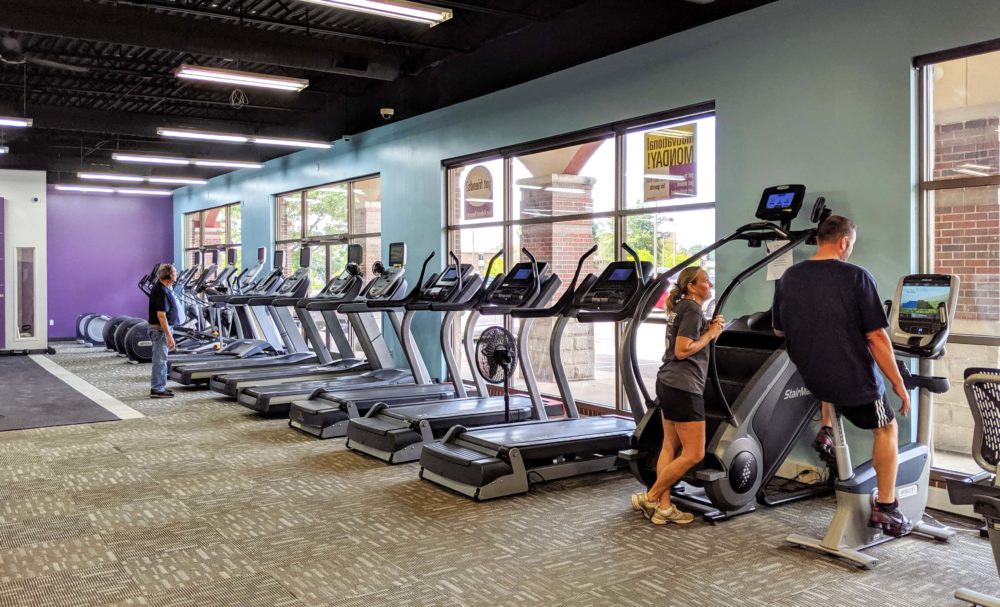 Let us start with Anytime Fitness. This particular gym chain is one of the largest in the country, with 3,000 locations in the US. What makes this one distinct is in the operating hours and the services they offer.
Just as mentioned in their brand, Anytime Fitness is open 24/7. This allows you to come to any location and take on your workout routines at any time of the day. Or night if you so choose. This particular feature works due to its members getting issued with a keycard.
Aside from the benefit of convenience, Anytime Fitness also offers a wide range of facilities that you can use for your training. The equipment would comprise of a complete set of weights. As well as power racks, and cardio machines. This wide array of exercise equipment can cater to all sorts of workout programs, but it can be intimidating when you feel uncomfortable being around bodybuilders and weightlifters.
Another thing that you can enjoy from Anytime Fitness is in the variety of classes that they offer. You can avail of lessons for yoga, Zumba, cardio, and so on. While this service varies by location, a member can get these for free after paying the monthly fee of around $38.99 (source).
Planet Fitness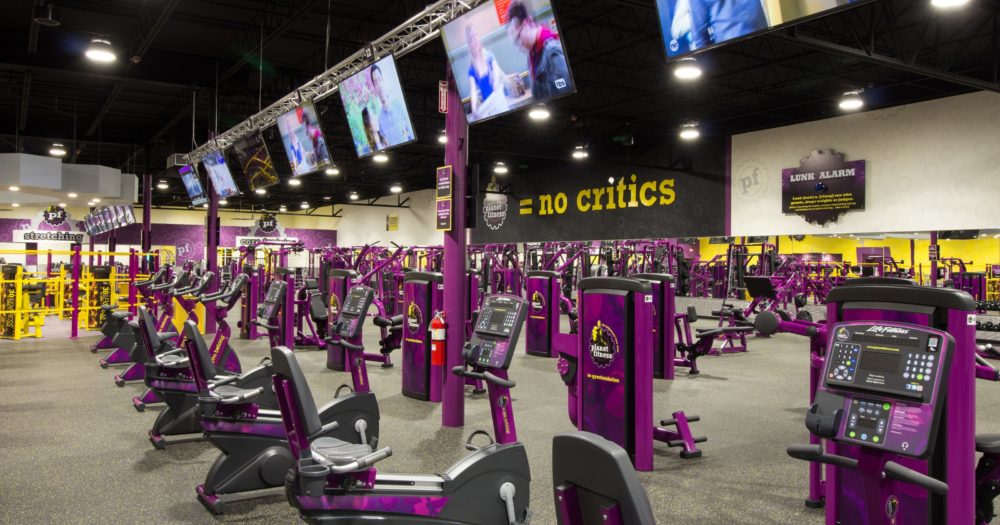 Now, let us look at Planet Fitness. It has about 1,000 locations in the US and it has a recognizable color scheme that always catches one's attention. The bright yellow and purple color scheme is as loud as it gets. Something that you will not forget about this gym.
In terms of operating hours, Planet Fitness can vary by location. Most of its locations operate for 24 hours, with some variation during weekends. To be sure of the precise operating hours, you will need to check your nearest gym for more details.
With the facilities, you would notice that it has a particular setup that isn't friendly to heavy weightlifters. Instead, you will find equipment that works well with cardio workouts and other exercises. You have light dumbbells and a few weight machines. But it counters with the many treadmills and other cardio equipment.
To go with this is a trademark that would resonate in every Planet Fitness center that you won't see anywhere else. That is the "no judgment or intimidation" atmosphere when working out.
The usual scenario in other gyms is with how it tends to be competitive and intimidating due to the numerous bodybuilders and athletes in the area. This becomes a contention for beginners that it hampers their progress. In Planet Fitness, they make sure that beginners can focus on their workout journey.
In terms of classes, Planet Fitness doesn't offer yoga or Zumba for the matter. Though they do show you how to use the machines and setting up workout templates. They do this for new members, cementing the approach that they aid beginners in their workout regimen.
Which One to Pick?
When picking among the two gyms, it boils down to your health and workout needs and goals. Are you looking for a cardio-focused workout or a full-body training program? Think about what you wish to achieve when going into these facilities and signing up.
Anytime Fitness works wonders if you want to access a full range of facilities. If you have work schedules that it gives you hours where most gyms become inaccessible, Anytime Fitness is a great choice for its 24/7 operating hours.
When signing up this gym, you get to choose the type of membership that you need. They offer varying membership options. Among these options include a single and two-person monthly membership. Annual memberships also have single and two-person variants. While it can be expensive, you get to use their facilities in any of their locations.
Planet Fitness allows for a better setup for beginners. Also for those who are a little strapped to their budget. They can also operate during late hours and their facilities lean towards cardio. They also offer memberships at varying levels. You also enter into a contract when signing up for a membership, but their fees are notably low.
Once you have found the gym that suits your needs, sign up now and get started with your workout journey. At least now, you can go from either a quick drive or even walk a few blocks from your home to the nearest Anytime Fitness or Planet Fitness center.